I actually read more in May than I would normally, including a whopping century-spanning Russian-adjacent novel of 1,244 (tablet) pages (the magnificent The Eighth Life, by Nino Haratischwili) in just four days! Lots of other 4.5 and 5* books, too. I posted six book reviews, with even more to come in June.

Exit Wounds, by Paul B. Kane & Marie O'Regan (eds.) - 4*
Cold Crash, by Jennifer Young - 4.5*
Shiver, by Maggie Stiefvater - 4*
Orphan Monster Spy, by Matt Killeen. YA at its best: an exciting story that gets across historical realities (well, maybe the plot is a little far-fetched) and makes you think about the 'banality of evil' - 4.5*
The Glass House, by Eve Chase - 5*

The Wolves of Leninsky Prospekt, by Sarah Armstrong - 4*
Injections of Insanity, by Lorraine Mace - 4*
The Light Fantastic, by Terry Pratchett - 4*
The Tempus Project, by Antony Johnston - 5*
The Mysterious Affair at Styles, by Agatha Christie - 4*

The Eighth Life, by Nino Haratischwili. Epic, riveting, unforgettable - 5*
Her Body and Other Parties, by Carmen Maria Machado. As with all short story collections, I loved some and didn't 'get' others. My favourite was 'Especially Heinous', which made me think of Dread Singles, Ministry of Sleep, Fossilized Tree Resin and their ilk - 4*
The Cat and the City, by Nick Bradley - 3.5*
The Ghost Tree, by M. R. C. Kasasian - 5*
Devil Darling Spy, by Matt Killeen - 3.5*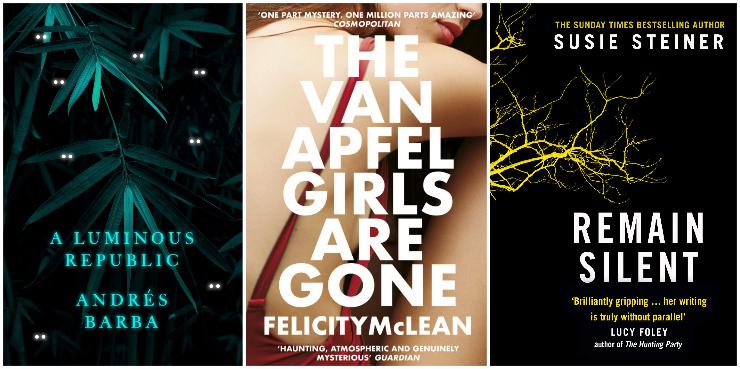 A Luminous Republic, by Andrés Barba - 4*
The Van Apfel Girls Are Gone, by Felicity McLean - 4.5*
Remain Silent, by Susie Steiner. Another great, timely literary thriller and I LOVE Manon, though I think she needs to check her privilege sometimes - 4.5*
Looking ahead…

Even though I read a whopping 18 books this month, my TBR pile never gets any smaller, not least because I keep making Netgalley requests and joining blog tours!
Doris Lessing's The Golden Notebook has been on my pile for ages - I got it with November's Books That Matter box along with a load of awesome stationery. I haven't read any Barbara Erskine in a couple of months even though I love her books, so that needs to be rectified with Daughters of Fire. The Tempus Project, by Antony Johnston was one of the best books I read in May, so it would be remiss of me not to read the previous book in the series, The Exphoria Code.
I'm on the blog tour for Matson Taylor's The Miseducation of Evie Epworth, which looks to be an amusing coming-of-age story - and I got to have the advance copy in paperback! I requested A Cosmology of Monsters, by Shaun Hamill from Netgalley, meanwhile, because it looks amazingly creepy.