What I read in April 2022
I read another 11 books in April - 11 or 12 books a month seems to be the standard for me in 2022, which is nothing to complain about.
This month I booked tickets for a few Essex Book Festival events in June, and time off in July for Primadonna Festival, which I'll buy my ticket for next week. A multi-day festival of books that's close enough for me to travel to and from each day (I'm just really passionate about sleeping indoors, in a proper bed)? Yes!
So I'm very excited for the next few months. It's such a turnaround from this time last year, when I felt like there was nothing left for me and I couldn't imagine feeling OK, let alone good, ever again.

The Shot, by Sarah Sultoon - 4*
Sins of the Father, by Sharon Bairden - 3.5*
The Key in the Lock, by Beth Underdown - 4*
Deity, by Matt Wesolowski - 4*

The Rabbit Factor, by Antti Tuomainen, translated by David Hackston - 5*
Villager, by Tom Cox - I was actually an Unbound pledger for this, but since reading the book I've had the opportunity to jump on a blog tour! 5*
The Carnival of Ash, by Tom Beckerlegge - 4*
Keep Her Sweet, by Helen FitzGerald - 4*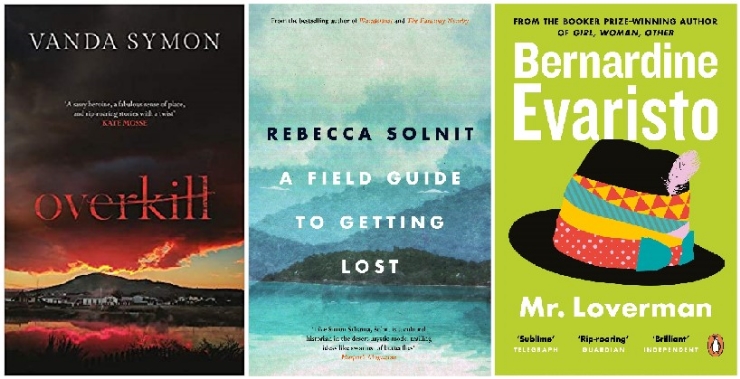 Overkill, by Vanda Symon - 4*
A Field Guide to Getting Lost, by Rebecca Solnit - my first Solnit and it's given me SO MANY THOUGHTS that I might or might not put in a blog post. 4.5*
Mr Loverman, by Bernadine Evaristo. Joyful! 5*
Looking ahead…

Stuart MacBride books are an auto-buy for me whenever there's a new one, so I'm looking forward to reading No Less the Devil. I'll also be finishing Matt Wesolowski's Six Stories series this month, with Demon.
I'm halfway through a fortnight where I don't need to read anything for a blog tour, and I've been using the time to tackle my physical TBR pile. I bought my erstwhile academic advisor Malcolm Gaskill's The Ruin of All Witches in the post-Christmas sales, so it's about time I got to it.
I might actually make it to Book Shelf Raiders in May. This month's theme is 'author/title that starts with the same letter as your name'. Having absoutely loved The Rabbit Factor, I'm really keen to read more Antti Tuomainen, so The Man Who Died seems like an obvious choice!