Review: The Cut Out Girl, by Bart Van Es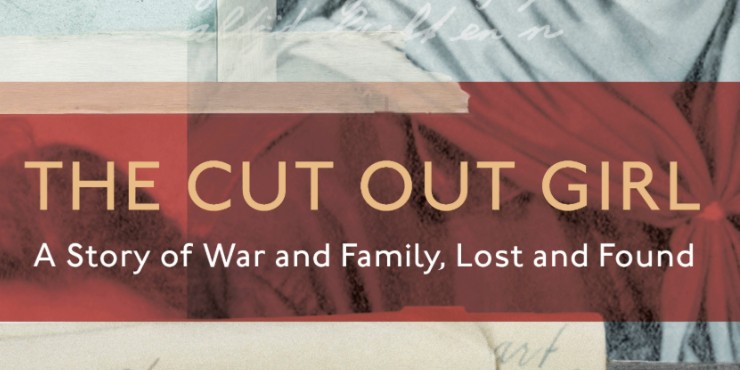 The Cut Out Girl is one of those titles where I can't really say I enjoyed it in the traditional sense, because the subject matter is so sad, and disturbing in places. But I did find it an absorbing and enlightening read, and I really appreciated and admired Bart Van Es' research and writing efforts and choices.
At its heart, The Cut Out Girl is a biography of Lien, a Dutch Jewish girl who was smuggled away from her home when the Nazis invaded Holland. She was hidden in plain sight with a non-Jewish family - initially the author's grandparents, aunts and uncles. Having been forced to move on to other places and families when she was in danger of being found out, she returned to live with the Van Eses after the war, and stayed in touch with them for some years. They lost contact following a misunderstanding; when Van Es tracked down Lien to record her story, she was reunited with the family after around 30 years.
The book as a whole is not purely Lien's narrative, however. Van Es not only gives us all the historical context we need, but we follow him as he researches the places Lien lived and hid, and are privy to his thoughts about how best to write her story, the contrast between the versions of the Netherlands he and Lien experienced growing up, and the meaning of 'family'. In doing so, he also addresses his own privileges and faces difficult truths about some of his relatives, making the book feel extremely honest and all the more moving.
By providing all this extra information, Van Es not only helps the reader understand why Lien had the experiences she did in Holland during World War II (shamefully, I only really knew about Anne Frank), but uses a style of history writing I've really come to enjoy following my erstwhile involvement in the Storying the Past creative history reading group. Like Laurent Binet's HHhH, Julia Blackburn's Threads (which, in retrospect, I think I may have been too harsh about - I should reread it now I've got less of a stick up my bum about what constitutes a 'history book'!), and Alison Light's Common People, in The Cut Out Girl, Van Es shows his working, doesn't erase himself from the narrative, and explains his writing decisions - and I love it.
When I followed Van Es on research trips to various places, from Lien's original family home in The Hague, to the houses that became 'home' to her when she was in hiding, to the libraries, archives, and museums he visits, I felt as though I was filling in the gaps in Lien's narrative, and coming to new understandings of history, alongside him. There are parts where he admits he's added colour to Lien's narrative by including details provided by other people who were there at the time, and I didn't feel cheated, not just because he lets the reader know, but because as a trained historian myself, I'm well aware of both the limitations of memory (especially in the case of Lien, who has had some traumatic experiences), and the need to construct a coherent story to help readers understand what happened and feel for Lien.
And there's a lot to take in and feel, because Lien goes through so much. She endures separations from her birth family (most of whom die in the Holocaust) and the Van Eses, whom she has virtually assimilated with and grown attached to, has to live with a family who treat her as a skivvy and turn a blind eye to the sexual abuse she suffers from her 'uncle', and is displaced for a while. After the war, there is no recognition of her or other Jews' suffering, and she has to fight to stay with the Van Eses - the only family she recognises as such, and even then, it's not the same as it was when she lived with them before.
What makes this all the more shocking is that this is only one person's story - thousands of other Jewish hideaways would have experienced all manner of similar and dissimilar traumas. This is particularly highlighted when, as an adult, Lien attends a conference with 500+ other former hideaways. By finding others who make her feel less alone, having therapy after a breakdown, and discovering Buddhism, Lien is able to come to terms with her ordeals.
Perhaps because of his personal link to Lien, Van Es is particularly meditative about the idea of family, and what it's like when you're taken from your biological family and placed in one you have no prior connection with. Lien experiences families in a variety of unconventional ways: she has no opportunity to properly process the loss of her half-remembered parents, or grieve for them; she feels part of the Van Es family only to have to leave; she receives no love from the family she subsequently stays with; when she returns to the Van Eses, she isn't able to integrate in the same way as before due to her unspeakable experiences and identity as a survivor; she finds surviving members of her biological family, but they are strangers to her. The misunderstanding that drives a wedge between Lien and Mrs Van Es, and by extension the rest of the family, feels like something that might have been patched up pretty quickly if Lien were a biological, constant, more assimilated member of the family.
The Cut Out Girl is just the kind of history book I've come to love. It contains a moving, coherent story that conveys the humanity of both Lien and Van Es. While it's incredibly sad, and made me angry in places, there's also a feeling of increased understanding and resolution towards the end. I felt like I was on a journey with Van Es as he used one person's story to paint a wider picture of the experiences of Jewish children in Holland in World War II, and its obvious that he has been affected and altered by what he found.
It's very timely, as well; I feel even more disgusted by the separation of immigrant children from their families at US Border Patrol now I've read this biography. It's inevitable that we'll see another cohort traumatised in similar ways in the not very far future.