Blog tour: Love Me Tender by Lorraine Mace
This post is part of a blog tour organised by Random Things Blog Tours. I received a free copy of the book in return for an honest review.
"IF HE WANTS YOU… THERE'S NO ESCAPE.
"A brutal murder…
"Responding to a tip-off, newly promoted Detective Chief Inspector Paolo Sterling arrives at an apartment block to find the dismembered body of a young woman. And with no indication of a break-in, all signs suggest the killer was known to her.
"An abduction in plain sight…
"Then the victim's friend is snatched with no witnesses and the unanswered questions mount up.
"At the same time, Sterling's team are leading the surveillance of a local club, thought to be involved in a drug operation. But when one of his colleagues ends up in hospital close to death, Paolo begins to lose his grip.
"A detective on the edge…
"With the odds stacked against him, and time running out, can DCI Sterling uncover the truth before it's too late? Or will this case finally tip him over the edge?"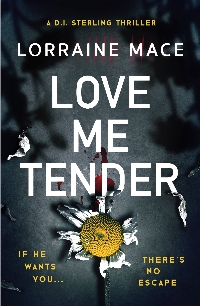 In Love Me Tender, by Lorraine Mace, DCI Paolo Sterling and his team are under enormous pressure to solve two cases.
A local MP's daughter has died after taking some dodgy drugs, and the detectives are trying to catch the suppliers by staking out The Pipe, a nightclub they've had a tip-off about.
Meanwhile, Sterling makes a tragic and gruesome discovery when he checks on his ex-wife Lydia's colleague, Sasha, who hasn't shown up for work and had recently complained of being followed. Soon afterwards, Sasha's friend Marissa goes missing, and Sterling is worried she'll meet a similar fate, if she hasn't already.
Sterling and his colleagues' attention comes to focus on the patrons of the gym Sasha and Marissa used - but there are a few suspects there to choose from, and is it just a coincidence that some of them have links to The Pipe?
I devoured all the other books in this series two years ago, after reading Rage and Retribution (now retitled An Eye for an Eye) for a blog tour, and I'd been meaning to read Love Me Tender since it came out 18 months ago.
Not only did it remind me how much I enjoy Mace's books, but I quickly slipped back into the well-realised fictional city of Bradchester, and enjoyed being reunited with the characters: put-upon, conscientious Sterling, perceptive and good-humoured DS Cathy Connors (aka CC), and even conniving DS Jack Cummings.
As in her other books, Mace really keeps you guessing throughout Love Me Tender. We know, from a few chapters written from his perspective, that the killer lives comfortably and is romantically attracted to his victims - but that could describe a few of the suspects who come to light.
These chapters are brilliantly creepy, as the author convincingly gets inside the mind of a man who's been warped by a violent upbringing, and thinks he's entitled to women's love and care. I certainly won't look at Love Hearts in the same way for quite a while!
Mace, as ever, tempers her portrayal of the darker side of humanity and nasty crime scenes with flourishes of humour. I particularly enjoyed Sterling and CC's exchanges with Sasha's cantankerous landlady/neighbour and officious letting agent. There's also a rather sweet will they/won't they between Paolo and Lydia, and it's heart-warming to see how well their daughter Katy's doing after some of the things she's been through in previous books.
Love Me Tender is a smart, chilling, and brutal crime thriller.