'Horrible Histories' Conference, King's College London, 16th-18th June 2016
Apologies for not blogging last week - following the referendum, I REALLY didn't feel like it.  Or like doing anything, for that matter.  Anyway, today it's nine days until I submit my thesis, and I'm going to blog about the Children's History Society conference I attended the other week.  The Children's History Society is very new and exciting, and I get to be the secretary, yay!  So as well as giving at paper (possibly my last ever, sniff), I also got to exercise my minute-taking skills (you can tell I've been writing job applications recently).  As it was a three-day conference, I saw TONS of papers, so as ever, I'm going to talk about a few that I could particularly relate to my own work, and that doesn't mean that the other ones I saw weren't awesome too.  As there were always several panels being held at once, I had to make some hard decisions about which ones to go to, and bet I missed some great papers to go to other great papers.
The conference got off to a great start; the first paper I heard was Lucy Bland's, on the topic of 'Homes for 'Brown Babies'.'  Having read Angela Levey's Small Island for A Level, this paper invoked in me a latent interest in what happened to the children of white British women and black American GIs, especially when the woman in question was married, so it was obvious the baby was not her husband's.  The gist of Bland's paper was that many of these mixed-race children grew up in children's homes, and that there was a lot of debate about whether these homes should be segregated or not, whether the children should be adopted by white couples or not, and whether or not they should be sent to America.  Something I found really interesting was the existence of homes, run by African church leaders, which aimed to train the children to work in Africa - a 'third place' for them, surely, when they were born and grew up in Britain, had British mothers, and African-American fathers who they never knew and who might never have been to Africa themselves.  I might link this paper, very tenuously, to my own research considering 'difference' in children.
Another paper I enjoyed, on the second day, was Sara Hiorns' one about British children's experiences of boarding school, particularly the experiences of diplomats' children who had been sent to British boarding schools from abroad, thus increasing the culture shock and distance from their parents.  Hiorns' findings were very congruous with my (rough) findings on the same topic - women said more about their experiences whereas men skimmed over them, and there was a lot of ambivalence, with people reporting both positives and negatives, and changes in experience over time.  She made a very good point that boarding schools became incompatible with new ideas about the importance of the family environment in children's development following World War II, but for diplomats, sending their children to boarding school was a necessary evil.  I was surprised to hear that the children did enjoy the autonomy - now I think about it, it seems logical that they would have their own society separate from adults, but when I think of boarding schools, I imagine housemistresses and teachers breathing down children's necks all the time!
In the same panel, Abigail Knight spoke about oral history interviews with people who had grown up in orphanages.  Like boarders, they emphasised both the positives - playing, and having playmates, and the negatives - having to do domestic work, having to share everything, and harsh punishments.  She made the point that extraverts had a better time in orphanages, as they were able to put themselves forward more in social groups and acts of insubordination, so it was not the same for everyone.  I found it really sad that academic talents were not encouraged, as the children were expected to become domestics, and that the authoritarian structure of the orphanage meant that the children could not affect change, and had little confidence as adults because they were used to being told what to do all the time.  Like my only children, some of the orphans felt that being in an orphanage had affected their entire lives.
On the third day, I heard Stephanie Olsen talk about the pressure on children to be hopeful during WWI.  There was a concern with training children for what was envisioned as Britain's post-war future, with an emphasis on morality, service to the nation and empire, and peace.  This was interesting because there was a conflict between these messages, and the idea that children should be willing to fight for their country, and maintain military dominance.  This paper related somewhat to my own research, because I've had to explore what exactly childrearing manual-writers wanted children to be, in order to understand how only children hindered that vision.
I also really liked Sophie Handler's paper on the Representation of Middle Class Children of the French Third Republic.  Handler focussed on how Marcel Proust and Odilen Redon were introverted and introspective as children - Proust because his upbringing was strict and closeted, and Redon because his parents, unhappy with his introspection from a young age, sent him to live with distant relatives, intensifying his introversion, as he felt abandoned.  Handler argued that both men took refuge in their respective arts, and the lack of familial affection and interaction they received caused them to straddle fantasy and reality, and sanity and insanity.  I could relate this to my own work, in which it was the only children whose parents were unloving, but kept them close to home, who commonly appeared to fit 'only child' stereotypes of introversion and social awkwardness, rather than all only children.  The inclinations of parents, and domestic situations, accounted for a lot of my only children's experiences!
Overall, I had a great time, though I was very tired at the end of the conference, having commuted into London three days in a row!  I got to meet up with lots of my history of childhood colleagues, and met a few new people too.  I think I will have to make the effort to go to future conferences held by the Society, wherever I end up!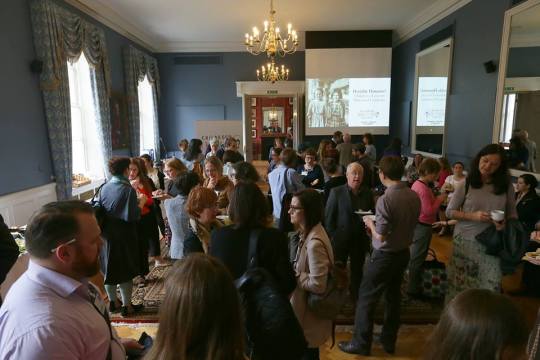 Image pilfered from the Children's History Society Facebook page.